General Degree Drops New Album, 'From The 90s'
DANCEHALL ICON
GENERAL DEGREE
DROPS NEW ALBUM,
FROM THE 90s
Album Now On Pre-Order,
Available Worldwide on August 12, 2016 from FOX FUSE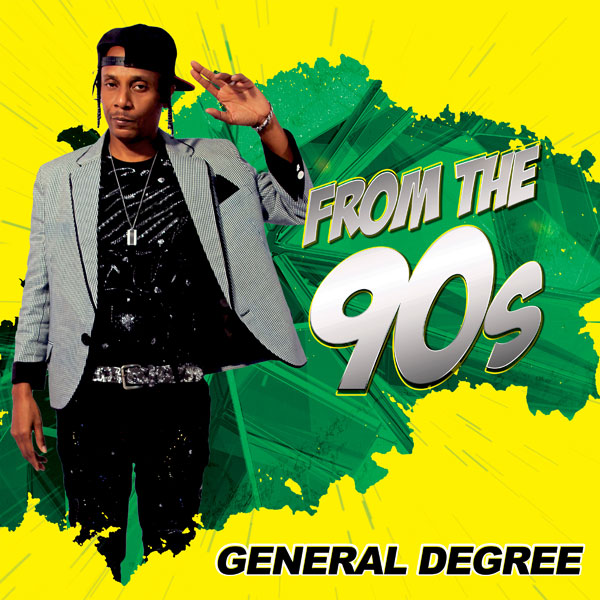 New York, NY (FOX FUSE) – Jamaican dancehall icon General Degree stops traffic with his brand-new collection of dancehall anthems on From The 90s, available worldwide from all major digital retailers on August 12, 2016, with pre-order available now, from FOX FUSE. Born Cardiff Butt in Mandeville, Jamaica, the world-renowned dancehall deejay (Jamaican rapper) blasted onto the music scene over 20 years ago, and has remained a mainstay on airwaves and playlists ever since. Consistently touring and keeping his brand relevant with fans – a rare accomplishment in the dancehall genre, this timeless artist now returns with a collection of new hits to satisfy dancehall aficionados, globally.
Related Links:
2 Chainz- Daniel Son; Necklace Don
THE LIFE PROJECT by Jekalyn Carr Available Now
Apollo Brown & Skyzoo Announce 'The Easy Truth'
Cardiff "General Degree" Butt
"I'm very excited to bring my new album From The 90s for longtime and new fans everywhere," reveals General Degree. "The album delivers classic dancehall vibes I'm known for, while keeping things fresh with new music from some of the top producers in Caribbean music today."
From The 90s is stacked with 14 thrilling tracks that cover the spectrum of dancehall music, spewing throwback 90s sounds to deliver new classics for the times. Acclaimed Jamaican producers add authentic flavors to General Degree's dancehall mastery, with the likes of Steven "Lenky" Marsden, Craig "Craigy T" Thompson (of T.O.K.), Andre "Suku" Gray (of Ward 21), and Hitmaker Muzik. International pop star and fellow Jamaican Sean Paul turns up the temperature on the EDM-spiced "Bambalam (Remix)," reggae royalty Tarrus Riley pools his star power on the reggae-infused "Feeling Irie (Dancehall Remix)," while throwback dancehall vibes take center stage on tracks such as "Yuh Betta Kool," "Have Fun," "We Doe Worry," and "Gweh," among others.
The album was executive-produced by General Degree, with several songs produced under his production alias Snapple Dapple, for his own imprint Size 8 Records. "My gratitude to all the producers and musicians who helped me bring this project to fruition," adds General Degree. "Massive thanks also to Sean Paul and Tarrus Riley for blessing my tracks with their talents – they all helped me make magic for the fans. It's called From The 90s but as with any General Degree release, it's timeless."
General Degree more recently turned heads and waistlines with his dancehall-EDM fusion blockbuster jam "Bambalam," also available worldwide from FOX FUSE. The electrifying tune was licensed by Zumba in 2014 and has since worked its way around dance studios worldwide, amassing a new following for General Degree, in both the dance and fitness worlds. That momentum spawned From The 90s, as it proved the international need for new music from this electrifying and eternal artist, which he now delivers for the masses to enjoy, for all time.
"We're longtime fans of General Degree and it's truly our pleasure to work with him in bringing his new collection of hits to the international audience," state Zack Cohen and Rhona Fox, owners of FOX FUSE. "His music is indeed timeless and we look forward to continuing his legacy, in dancehall music and beyond."
For more information, follow General Degree's daily moves at Instagram.com/GeneralDegree1, Twitter.com/GeneralDegree, Facebook.com/GeneralDegree1 and YouTube.com/GeneralDegree.
TRACK LIST
1. Feeling Irie (Dancehall Remix) Featuring Tarrus Riley
2. A You Mi Come Fah (Remix)
3. Yuh Betta Kool
4. Have Fun
5. We Doe Worry
6. Bambalam (Remix) Featuring Sean Paul
7. Bumpa
8. Betta
9. Kitty Kitty
10. Drunk Sex
11. Di Bam Bam
12. Hottaz
13. Dutty Bad Mind
14. Gweh